Tours in Botswana
Botswana, one of the last nature paradises on earth, is waiting for being discovered by you! "Once in a lifetime" – experience top-class wildlife and safaris. In many places Botswana is coined by a never-ending vastness, breath-taking beauty and remoteness. The government wants to protect that and thus allows tourism only in a limited manner. One of the country's highlights is the unique Okavango River Delta with a total surface of 18,000 square kilometers – due to its position amidst the largest sand area of the world it is a unique ecosystem in the North-West of Botswana. Its total surface is bigger than for example Belgium and thus forms the biggest inland water system of the planet. The Okavango River´s headwaters rise in the plateau of Angola. Then the river flows into Botswana where it is a single-armed river (called "Panhandle") for the first 100 kilometers before the river turns into the Okavango Delta with small and large side channels that have the form of a pan. Here you discover the landscape in Mokoros (dug-out canoe) or on river safaris in order to enjoy the intact ecosystem with its unique game and bird population. The Chobe National Park lies in the North-East of the country and is famous for the largest elephant population of the world, huge buffalo herds and an unbelievably great variety of bird species. The Kalahari Desert (called Kgalagadi in Setswana) is a large semi-desert that even reaches into South Africa, Namibia and Angola in the South and West of Botswana. The Makgadikgadi Pan with its total surface of about 6,500 square kilometers is said to be the world's largest salt pan. This landscape full of contrast rounds off the visit of Botswana.
Some examples for possible tours in Botswana:
Botswana Victoria Falls Tour
(12 days)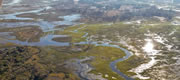 Botswana Caprivi Tour
(16 days)
All our tours can be realized with a guide or as self-drive tours. Accommodation is possible in lodges or on camping-sites. Of course we plan an individual tour according to your ideas as well. If wished, we also book appropriate flights for you.
Please consider our full range of services.