Tours in Zambia and Zimbabwe
One country that can be called "true Africa" lies in the heart of the continent: Zambia!
According to its variety of landscapes and remoteness, Zambia is the favorite destination of experienced Africa travelers. The enormously large country offers vast areas of unexplored and protected wilderness with broad grass plains and savannas, Miombo forests and bush landscapes on a total surface of 750,000 square kilometers. It has borders to Tanzania in the North, to Malawi and Mozambique in the East, to Zimbabwe, Botswana and Namibia in the South and to Angola in the West. Through the plateau with its average height of about 1,000 meters, which is covered with small hills, savannas and dry forests, the majestic Zambezi River with its largest tributaries Kafue and Luangwa River flows. Apart from single mountains and ridges, lakes and widespread marshes coin the basin of the plateau. Zambia has a milder climate due to its altitude: the rainy season is from November to April and the dry season from May to August. There is a tropical humid climate in the river valleys that are situated below.
Two of Africa's largest game reserves, the Kafue National Park and South Luangwa National Park are waiting for being explored by you. The Kafue National Park, Zambia's oldest park, with its total surface of 22,500 square kilometers, is half as big as Switzerland and attracts lovers of Africa because here you find plenty of animals and remote nature. The South Luangwa National Park belongs to the greatest protection areas of the world because the richness of species and game in the area of the Luangwa River and its dead tributaries are among the best of Africa – thus, we promise you exciting river safaris. As famous is the Lower Zambezi National Park where one discovers the river landscape by canoe to see elephants, leopards, hippos and crocodiles. Or you stroll on David Livingstone's footsteps in order to experience the untamed wilderness and the fascinating natural spectacle of the Victoria Falls, one of the World Heritage Sites. The falls cascade down on a width of 1,700 meters and down a height of 110 meters. Thus, one often is surrounded by water fog. The landscape of the Zambezi River will attract you, be it by a helicopter flight or a romantic sundowner cruise.
Zambia enthuses also by its kind people. The time you spend in this remote country will certainly be an unforgettable highlight of your Africa trip.
The World Heritage Site Victoria Falls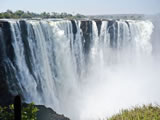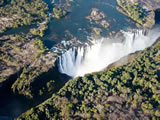 On request we offer tours in Zambia and Zimbabwe as well.
All our tours can be realized with a guide or as self-drive tours. Accommodation is possible in lodges or on camping-sites. Of course we plan an individual tour according to your ideas as well. If wished, we also book appropriate flights for you.
Please consider our full range of services.